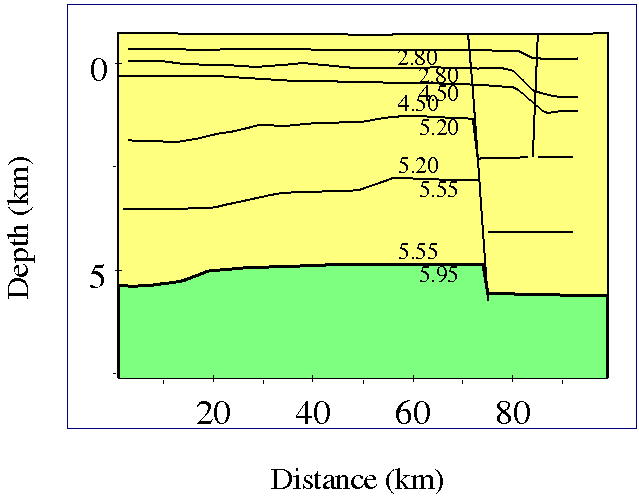 REFERENCES:
   AUTHOR    = Seber et al.
   YEAR      = 93
   FIGNUMBER = 15.1
   SOURCE    = Geophys. J. Int., 113, 752-766 pp.
   TITLE     = Upper crustal velocity structure and basement morphology 
               beneath the intracontinental Palmyride fold-thrust belt 
               and north Arabian platform in Syria.

Refraction data from 90 forward and reverse shots are analysed.  The
shot-receiver offset averages about 40 km, ranging from 25 km to 55 km.  
This profile's geophone spacing was 100 m.  Overlaping forward and 
reverse shot points provide up to eight-fold data coverage in some 
regions, which helps in obtaining reliable and unique velocity-depth 
models.  Average charge size varied from 200 kg to 1000 kg in the Aleppo 
and Rutbah regions and was usually twice as large in the Palmyride 
region.  Charge depths for these shots varied from 30 m to 50 m.

---
This figure is available in gif or postscript format.