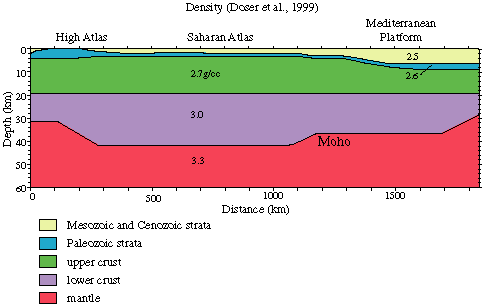 REFERENCES:

    AUTHOR        = D.I. Doser, G.R. Keler, S. Harder, K.C. Miller, P.J. Dial
    YEAR          = 1997
    FIG NUMBER    = Profile 2, Figure 9
    SOURCE        = Final Report PL-TR-97-2136, Department of Energy, Office of Non-Proliferation and National
				     Security, Philips Labratory, Directorate of Geophysics, University of Texas/El Paso. 
    TITLE         = Development of a Lithospheric model and Geophysical Database for North Africa
Geologic, gravity and seismic data from North Africa were compiled into a database from which profiles across the region were selected to be modeled. The geologic database includes numerous geologic features digitized from six geology maps within the North African region which aided in the interpertation of the gravity and seismic data. The gravity database is comprised of over 40,000 data points collected from unclassified Defense Mapping data, Libyan industrial sources and a Bouguer gravity anomaly grid from GETECH.
---
This figure is available in gif or eps file format.